This blog
, started by Giselle was to be about me and my art but as my ex-husband and his second wife-political campaign manager Patricia (Pat) Enborg are
trying to keep the facts of our marriage and daughter hidden from the public
, I am writing it now. Being both unscrupulous journalists, they seem to have an easy task.
I'm a Canadian-Hungarian artist, had lived in
Canada for more than twenty five years,
where I was legally married to Peter (Ray) Rakobowchuk. Before our divorce we
had been living together for several years raising our small daughter, Giselle.
Now I live in Europe.
Giselle, Canadian by birth, grew up in Canada. After having lived and studied in
Europe for years
, she moved back
and
now lives and works in Canada
with no help from her father, a
journalist at The Canadian Press in Montreal.
Giselle Rakobowchuk, my daughter (father Peter Rakobowchuk, reporter for The Canadian Press in Montreal) had moved back to Canada several years ago for a while, before she did her university studies back in Hungary. Many people from Ottawa would probably recognize

Hy's

and remember my daughter as well, as

she made quite a few friends

there. She worked

at the reception desk.
Giselle Rakobowchuk with two co-workers at Hy's Ottawa
Giselle Rakobowchuk and co-worker Andrea at the reception of Hy's Ottawa
Don Newman's recently published book
It seems Don Newman, CBC's broadcast journalist is

still as great of a Hy's patron as ever;
he even held his book launch at Ottawa Hy's in October 2013
I have just recently found out that D
on Newman
went to work on the Hill about the same time when
we moved to Ottawa
as

Peter (Ray) Rakobowchuk

,
my
husband at the time, was transferred by Broadcast News from Toronto to Ottawa as

parliamentary reporter
.
Then, of course
Don Newman
and
Peter Rakobowchuk
, my
ex-husband
and
Giselle's legal, natural father
actually
worked together

on Parliament Hill for a few years.
Even

Giselle went to Parliament Hill

for a little while then. Of course, I am speaking about The Parliament Hill

daycare

, her father took her there when I had art courses to attend to at the

Ottawa School of Art

and Peter had to work.
Peter Rakobowchuk (parliamentary reporter here) with Giselle his first child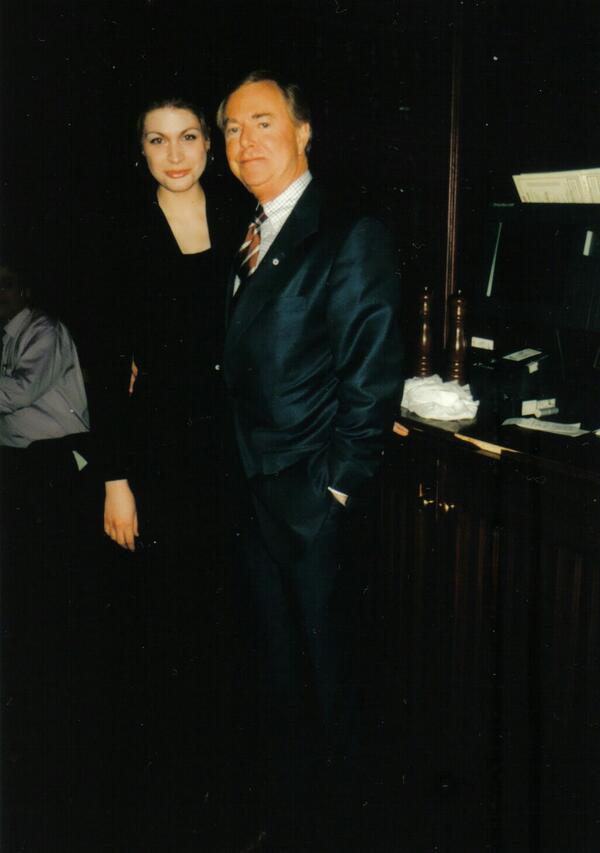 Giselle Rakobowchuk with Don Newman, CBC's broadcast journalist, a great patron of Hy's Ottawa
Andrea at the reception
Giselle and Andrea at Ottawa Hy's
Giselle Rakobowchuk and Andrea at the reception at Ottawa Hy's
A few light moments with co-workers



Nope, father didn't come to the rescue then, he didn't come now.

He never did.

Neither when she was a child nor as a grown up.

Patricia (Pat) Enborg,

his present wife-political-campaign manager

has a lot to do with it

. He said as much recently, during a rare phone call. (2-3, no it's not an average it is the whole

total number of all telephone conversations

between Peter (Ray) Rakobowchuk and his daughter Giselle Rakobowchuk since

she was about five years old.
Patricia (Pat) Enborg, who became the second wife of Peter (Ray) Rakobowchuk also

worked on Parliament Hill at the same time.

She was in her

early-mid 20's,

quite an achievement for her age. Wonder

how an Ontario "gal"

got a prestigious job at the Parliament with a Manitoba paper

(Selkirk News).

Didn't they have any deserving journalist in the whole of Manitoba?
It was about that time

my husband enticed me to go to Hungary

with our daughter Giselle with the promise he'd be sending money after us and then follow us and we would both take some courses in Europe and move back home together.
We had been together for over five-six years by then so

why would I have questioned

his intentions.
Well, the money never came, I never took art courses in Italy but I believe he

did take journalism courses

in Paris.
And then

Peter (Ray) Rakobowchuk

moved around Quebec with

Patricia (Pat) Enborg,

who is now his 2nd

wife

and also

political campaign manager.
http://www.spiritofradio.ca/Personalities.asp?Show=Enborg%2C+Pat
http://agotaszabosart.blogspot.hu/2014/02/peter-rakobowchuk-reporter-for-canadian_22.html
http://agotaszabosart.blogspot.hu/2014/03/patricia-pat-enborg-proverbial-step.html